Report on the End-to-End Review of Separation Process
27 September 2017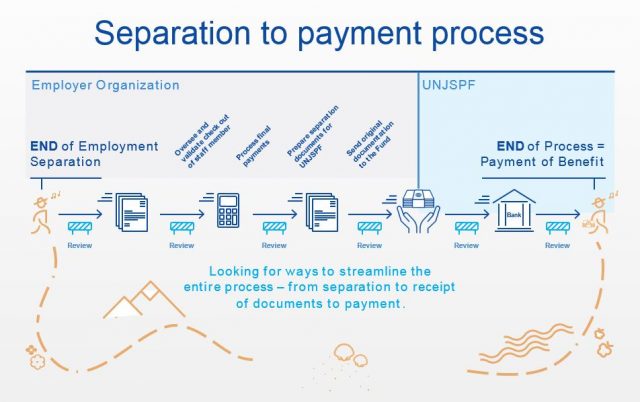 The external pension-related processes which support the United Nations Joint Staff Pension Fund  are varied, complex and rely on numerous functions (e.g. human resources,  Payroll, the Staff Pension Committees (SPCs), retiring staff, etc.) working together to provide the required inputs (information and documentation) to the Fund, which in turn, relies on these inputs to commence the entitlement and payment process that is a fundamental source of income in retirement / separation for the separating staff.
To date, processes have tended to be reviewed by each function in isolation to identify what improvements could be made to enhance efficiency, member experience, etc. The Fund's management, under the direction of the Pension Board, made a decision at its Board meeting in July 2016 to undertake a review of the entire end-to-end separation process to identify what enhancements could be made.
The end-to-end review encompassed the Fund's activities, as well as the external process-related activities from selected Member Organizations / Employing Entities (MO / EEs) human resources, Payroll and SPCs so that their unique characteristics can be understood, documented and assessed.
In addition to the UNJSPF, the following five MO / EEs initially volunteered to take part in this review:
World Health Organization (WHO);
UN – Department of Field Support (DFS);
UN – Children's Fund (UNICEF);
UN – Headquarters (UNHQ); and
UN Food and Agriculture Organization / UN World Food Programme (FAO / WFP).
The final report from this review, which was presented to the 64th UN Pension Board is now available to download.
Click here to download the report
Published on: Sep 27, 2017