Introduction from the UNJSPF Chief Executive Officer, Mr. Sergio B. Arvizú
16 March 2017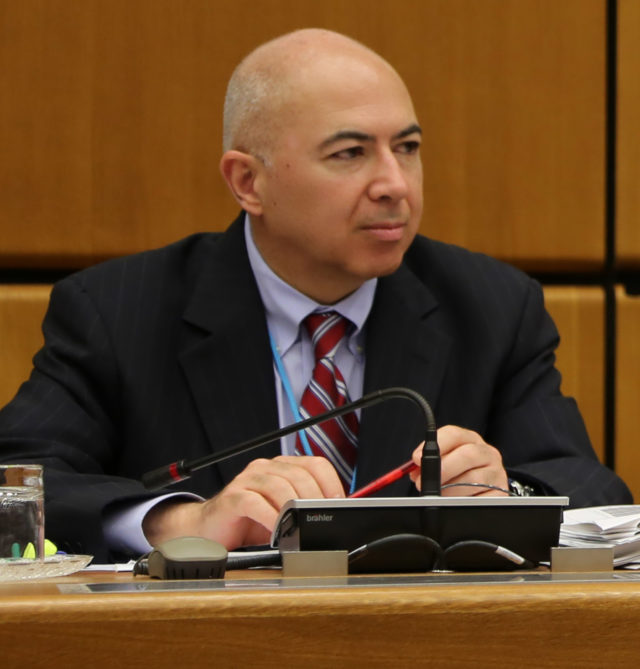 Welcome to the new and improved United Nations Joint Staff Pension Fund (UNJSPF) website.
Almost 15 years ago the Fund launched its own website, which served our stakeholders well for over a decade. It was a precursor in many respects and provided useful information. But like the Fund's old COBOL pension processing system, Pensys, which was replaced in 2015 by the Integrated Pension Administration System or IPAS, our website had become old fashioned as well, and difficult to navigate.
The new technological platform as well as the new communications strategy, has allowed us to continue with our vigorous effort to modernize and improve our processes and service delivery methods. Our goal when designing, developing and building this new website was to make it simple to navigate, clearly presented and comprehensive. We want all visitors who come to this site to be able to find the answers they are looking for and to learn about the Fund. The Fund has added a number of tools to help individuals figure out what they need to do concerning their pension benefits, what variables they need to consider when taking a decision and what actions they must do in what timeline.
The Fund will continue developing and improving this website, and we will add more tutorials and in the coming months a new modern and attractive video feature will be made available. Please also note that the site has a switch in its settings for a low bandwidth version, making it possible for more people to be able to use the site irrespective of bandwidth.
This site is the new face of the Fund, demonstrating its transformation from an outdated IT and operational model, an approach which was untenable and very risky, to a truly global, modern, efficient pension institution using robust, efficient and integrated technology to be able to adequately service more than 200,000 participants, retirees and beneficiaries which reside in over 190 countries and which have very diverse needs.
From a funding perspective, the Fund is in good shape and projected to continue its solid financial position many years into the future. As of 31 December 2015, the Fund presented an actuarial surplus of 0.16 per cent of pensionable remuneration. This represents an improvement from the deficit of 0.72 per cent at the end of 2013. More importantly, it highlights the continued reversal of the negative trend observed in the last decade. Naturally, this is not the result of luck, but of hard work and effective management from both the Pension Board and the Office of Investment Management.
Since the beginning of this year the Pension Fund is processing cases within 20 business days of receipt of all complete and accurate documents. On average the Fund can now process more than 1,000 cases a month. In November 2016, it reached a historic high in monthly processing with more than 1,500 cases released and paid, representing a considerable increase over the processing capacity of the old system. Even in December 2016 the Fund  processed 1, 101 cases, in spite of the holiday period. A year and a half ago in August 2015, the Fund launched the new, customized "Integrated Pension Administration System" or IPAS. The transition is now complete.
The Fund successfully launched the new Member Self-Service in August 2016  and it already has nearly 60,000 members registered. This is an historical high number of users and reflects the "user-friendliness" and the relevance of the available features.
In March 2017, the Fund rolled out a new dashboard tool through its Member Self-Service, making it possible for individuals who are separating, to see in real time when the Fund receives and validates their documents (from the employer organization and from the individual). This will enable individuals to know when the Fund begins reviewing and calculating their benefit.  
The Fund also implemented in October 2016 a pilot Call Centre in New York which operates 12-hours during business days, from 7am to 7pm. The Call Centre responds to MSS related questions as well as some basic questions about pension benefits (Tier 1), and directs the more complex cases to the appropriate senior benefit staff. There is also a feature in the call tree to provide urgent support to priority cases of survivors who receive specialized and expedited service.
The Fund very much hopes that all participants approaching separation will register in Member Self-Service so that they can monitor progress of their case and direct their queries and follow-up correctly, either to the HR and Payroll areas of their employing organizations or to the Fund. There is also a feature to submit the private e-mail address of the individual separating and thus we will be able to reach out more promptly and effectively to her or him if there are any follow-up questions or issues.
Please enjoy this new site and feel welcome to send your feedback about the site to the Webmaster or to the Fund's Communications Officer, Mr. Lee Woodyear.
Thank you.
Sergio B. Arvizú
 Published on: Mar 16, 2017