Retirees and Beneficiaries: the new Digital Certificate of Entitlement App is now live
4 February 2021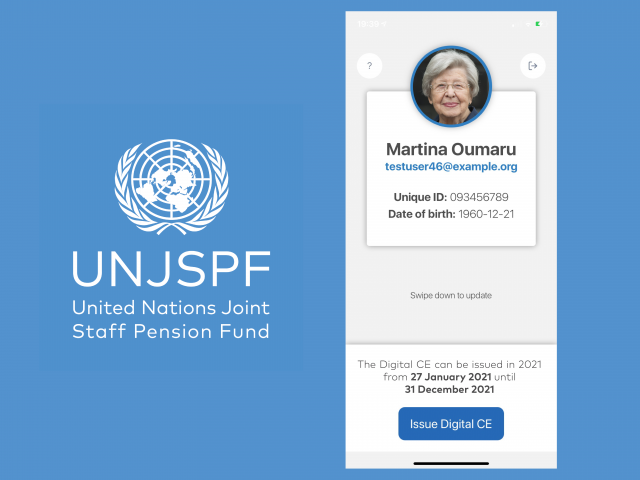 Note: this article was first published on 27 January 2021 and updated on 4 February 2021.
The Fund is pleased to announce that retirees and beneficiaries now have the option to complete the annual Certificate of Entitlement exercise by providing their annual proof of life in biometric format through a new Digital Certificate of Entitlement (DCE) App. All they need to do is download the DCE app to their mobile device and follow the instructions. This DCE is a new option that the Fund is offering in place of the paper-based Certificate of Entitlement (CE) and it is up to the retiree/beneficiary to decide how they wish to complete their annual CE.
"We hope that this major simplification will be widely used by our retirees and beneficiaries," stated Rosemarie McClean, Chief Executive of Pension Administration. "This is one of the first deliverables of our new strategy to move the Fund to becoming paperless wherever possible."
After the successful pilot project conducted last year, a number of UNJSPF and UNICC* staff were dedicated to this paramount project, from the initial concept to the testing. "I want to extend my warmest thanks to all of them," Rosemarie McClean added.
"The new DCE App is secure and reliable," added Dino Cataldo Dell'Accio, Chief Information Officer at the UNJSPF.
The main features of the new app are described in the box below, and more information is provided in the DCE Step-by-Step Guide and DCE FAQ.
The enrollment in the Digital CE and issuance of your 2021 Digital CE are possible until 31 December 2021.
Please note that, if you do not complete both the enrolment and the 2021 Digital CE  by 22 June 2021, the Fund will send you the 2021 CE form in hard copy by postal mail (see the questions below for more details).