On 21 September 2023, the Fund's Office of Investment Management (OIM) hosted the UN-convened Net-Zero Asset Owner Alliance Annual General Meeting, with the participation of John Kerry, Special Presidential Envoy for Climate, U.S. Senator Sheldon Whitehouse and UN Special Adviser and Assistant Secretary-General Selwin Hart.
The Alliance is a member-led initiative comprised of institutional investors that have committed to transitioning their investment portfolios to net-zero GHG emissions by 2050 consistent with a maximum temperature rise of 1.5°C above pre-industrial temperatures. The Fund has been a member of the Alliance since July 2020.
Opening the event, Pedro Guazo, Representative of the Secretary-General for the investment of the UNJSPF assets, stated that joining the Net-Zero Asset Owner Alliance had been "a catalytic moment for the Fund's path to sustainable investments". The Fund has been able to implement its goals and targets as a result of the direct support received by the Alliance.
During the event, members of the Net-Zero Asset Owner Alliance recognized the power of collaboration and how the Alliance fosters knowledge-sharing and the mobilization of resources to move the needle on the topic of climate change.
Participants exchanged their experiences on international, US, EU, and policies in emerging markets; the implementation of Net-Zero by financial institutions, and the enabling environment for implementing the transition to a Net-Zero economy.
The importance of working together with governments was highlighted as well as the need to be more vocal with partners and other sectors. Participants discussed the value of sending stronger political signals in order to achieve more progress and build more robust regulations.
Participants also agreed on the need to accelerate the race to secure a pathway to clean, secure and affordable renewable energy.
The United Nations-convened Net-Zero Asset Owner Alliance (the Alliance) is an UN-convened, Asset Owner-led Alliance. The members of the Alliance commit to transitioning their investment portfolios to net-zero GHG emissions by 2050 consistent with a maximum temperature rise of 1.5C degrees above pre-industrial temperatures, taking into account the best available scientific knowledge including the findings of the IPCC, and regularly reporting on progress, including establishing intermediate targets every five years in line with Paris Agreement Article 4.9.
The Alliance was established by the United Nations Environment Programme Finance Initiative (UNEP FI) and Principles for Responsible Investments (PRI) with a group of 12 founding members and officially launched to the public on September 23rd, 2019.
To get more details on the meeting, check here.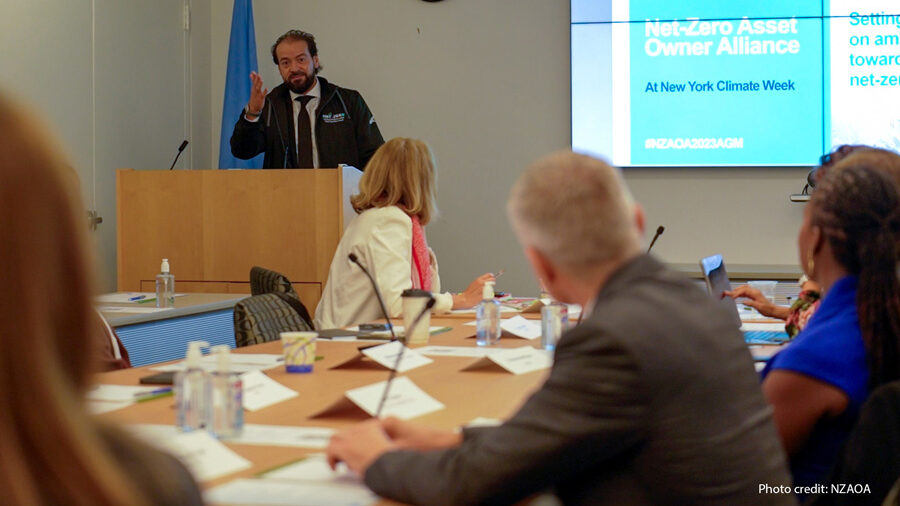 Pedro Guazo, Representative of the Secretary-General for the investment of the UNJSPF assets. Credit: NZAOA
Pedro Guazo, Representative of the Secretary-General for the Investment of the UNJSPF assets, provided an overview on challenges to sustainable investing and efforts the Fund is deploying in this area at the annual Sustainable Investment Forum North America. This was the 8th edition of the Forum, organized in partnership with UNEP Finance (UNEP-FI), gathering leaders and experts in the sustainable finance ecosystem during Climate Week NYC.
In his welcoming address, Eric Usher, Head of UNEP FI, highlighted how change is happening within the private sector and the wider sustainability community. "Leaders have started to set targets and our very own UN Pension Fund has already met their 2025 targets," Mr. Usher noted. The UN Pension Fund decreased the carbon emissions of its portfolio by 39 per cent in 2022.
Pedro Guazo stressed that, "there are concerns about the viability of some sustainable energy projects due to higher interest generated by inflation and geopolitical issues." Mr. Guazo was a panelist in the Forum's opening panel titled "Geopolitical/Macroeconomic outlook for the region-- managing short term energy shocks and energy security."
The panel discussed the current geopolitical crises and the disruptions they have triggered in the energy industry. As a result, certain companies increased their investments in fossil fuel energy but there has also been an acceleration to build sustainable renewable energy sources.
The panel also addressed the impact of renewable energy development on mining, including lithium and cobalt, acknowledging concerns about its sustainability and practices. The panel discussed the topic of polarization around climate change, noting it has not hampered progress and deployment of resources to tackle climate change.
The panelists provided insights on how financial institutions can mobilize capital toward renewable energy and how to model the impacts of climate change in investment portfolios.
"Since we divested USD 2 billion from fossil fuels and started comparing our benchmark with exclusions vis-à-vis the plain benchmark, our performance is almost 40 basis points above the plain benchmark. It pays off to invest sustainably," said Pedro Guazo.
The panel concluded with a reflection on what governments and regulators can implement today to advance the fight against global warming: carbon pricing and financing the right companies. For investors, the panel also provided a few actions to realize real world impact: engagement and joining like-minded investors to learn from others, and amplify key messages on sustainable investment.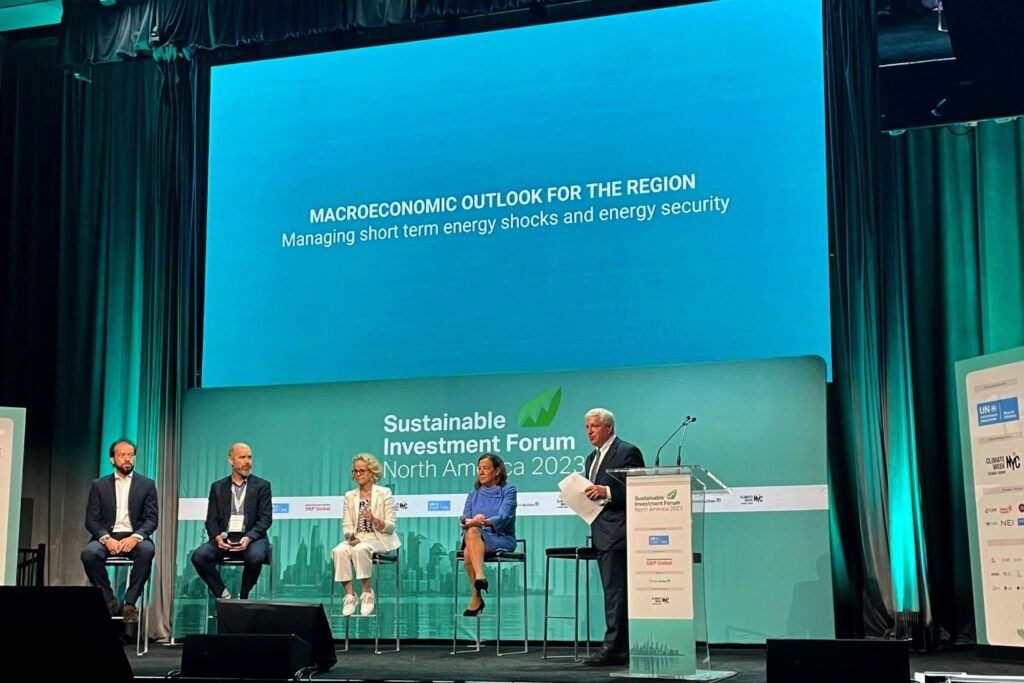 Left to right: Pedro Guazo, Representative of the Secretary-General for the Investment of the UNJSPF Assets; Jamie Bonham, Head of Stewardship at NEI Investments; Carine Smith Ihenacho, Chief Governance and Compliance Officer at Norges Bank; Mindy Lubber, CEO & President at Ceres; Scott Kalb, Former CIO & Deputy CEO, KIC, Director, Responsible Asset Allocator Initiative New America
We will be celebrating the United Nations Joint Staff Pension Fund (UNJSPF) 75th anniversary soon. Our Fund was established by resolution 248 (III) of the United Nations General Assembly on 7 December 1948, which came into effect on the 23 January 1949.
We would be grateful to receive your contributions about your experience with the Fund and how you see the Fund's future.
Contributions can be made by sending a written testimonial or arranging a video interview with the Fund's communication team.
How to contribute
To contribute to the UNJSPF 75th anniversary celebration, please send a written testimonial, Fund-related materials like annual letters, reports and photos, or arrange a video interview with the Fund's communication team.
Please send your materials or request a video interview to the Fund's communication team at UNJSPF-Communication@un.org (please note that this email is only monitored for communication-related queries).
Your contribution will help to document the history of the Fund and its impact on the lives of its members. Thank you for your support!
The International Public Sector Reporting Standard No 49 (IPSAS 49) "Retirement Benefit Plans" was approved yesterday (12 September 2023) at the meeting of the International Public Sector Accounting Standards Board  in Zurich, Switzerland. The IPSAS 49 will be effective for periods starting on 1 January 2026, with early adoption allowed. IPSAS norms are considered a critical tool to better management and the flagship accounting and reporting standards for the public sector.
"We are proud of having played a leadership role in the creation of this accounting standard for public pension funds internationally," said Karl-Ludwig Soll, Chief Financial Officer at the United Nations Joint Staff Pension Fund (UNJSPF).
The UNJSPF adopted the International Public Sector Accounting Standards in 2012, although specific guidance for pension funds was missing in the IPSAS. The UNJSPF asked the IPSAS Board for many years to close this crucial gap in IPSAS, which has now been done by the issuance of IPSAS 49. Finally there is clarity on the full IPSAS compliance of the Fund and readers of the financial statements will benefit from improved presentation of the Fund's solvency status.
Karl-Ludwig Soll was a member of the IPSAS Board working group supported by four additional staff members from the UN Pension Fund to develop the Exposure Draft (ED82) Retirement Benefit Plans and drafting the final standard for IPSAS 49.
With the historic adoption of the IPSAS 49 retirement benefit plans, the UNJSPF is aiming to early adopt the new standard (which allows pension funds to report under IPSAS) for the 2024 financial statements provided the UN Pension Board approves the required changes in its financial rules.
As an update to our announcement on 15 June 2023 regarding high bank fees on incoming US dollar transfers implemented by Raiffeisen Bank, we would like to advise that the Fund has secured a new payment channel to remit UNJSPF pension payments in Russian Ruble (RUB).
The Fund has coordinated with the UN Treasury to allow UNJSPF pension benefits to be remitted in RUB to banks in the Russian Federation.
The Fund will inform the concerned retirees and beneficiaries about this new payment channel, including detailed instructions on how to update their Payment Instruction.
The Pension Fund Liaison Offices in Bangkok and Nairobi are part of the Fund's Client Services Service and a key resource for UNJSPF participants, retirees, and beneficiaries in their regions. These offices provide essential services, including outreach, policy interpretation and capacity building, to support UNJSPF members, partners and operations. Each Liaison Office consists of a Benefits Officer and a Benefits Assistant who work closely with the other UNJSPF offices in New York and Geneva to provide services to members in their respective regions. The Nairobi Office opened in 2017, while the Bangkok Office started operating in November 2020 and was officially opened in March 2021. The UNJSPF Bangkok and Nairobi Liaison Offices are greatly supported by UNESCAP and UNON, respectively, with the Nairobi physical office shared with UNON HR Management Service (HRMS), while the Bangkok Office has its own office on ESCAP premises.
The Liaison Offices respond to client queries via email and offer one-on-one consultations, both remotely and in-person. They carry out pension briefings and town halls to disseminate information on pension matters in a clear and concise manner, ensuring that they are adapted to the needs of local audiences. These briefings cover a range of topics, including participation, separation, pre-retirement and in-retirement. They are targeted to all-participants, retirees, beneficiaries as well as pension focal points in member organizations or retiree associations. While most briefings are provided virtually, in-person missions to various duty stations have resumed and the Liaison Offices are now able to connect with clients in a more personal way.
Since their inception, the Liaison Offices have carried out over 250 briefings, reaching some 15,000 staff members and beneficiaries in their respective regions. For the Nairobi Liaison office, these included both in-person missions and virtual briefings to offices in and around Nairobi, Alijungur, Dadaab, and Mombasa, and to organizations in various countries including Angola, Botswana, Burundi, Djibouti, Eritrea, Eswatini, Ethiopia, Iraq, Lesotho, Malawi, Mozambique, Namibia, Rwanda, Somalia, South Africa, South Sudan, Tanzania, Uganda, Yemen, Zambia, Zimbabwe, and to all English speaking UN Peacekeeping missions in Africa. Besides regular pension outreach carried out locally in Thailand, the Bangkok Liaison Office has completed recent in-person missions to provide briefings in Lao PDR, Viet Nam, Bangladesh and China, with an upcoming visit scheduled to Myanmar. Numerous virtual briefings have been delivered to UNJSPF members in various duty stations, including Malaysia, Indonesia, Timor-Leste, Mongolia, Japan, Philippines, and Cambodia.
The Benefits Officers in Bangkok and Nairobi mutually support each other for all virtual outreach events by answering written questions in live time to clarify participants' queries and provide additional information as needed throughout these sessions. Through in-person and virtual briefings, the Liaison Offices will continue to expand their outreach to more countries in their respective regions.
The Liaison Offices play a crucial role in supporting retirees and beneficiaries in their respective regions, especially in the annual pre-suspension exercise to minimize the number of suspended benefits due to non-receipt of the certificate of entitlement.
If you have any queries about your pension, please visit our website or contact us here.
On August 16, 2023, the UNJSPF became a member of the Blockchain for Sustainable Future (BC100+) initiative. BC100+ brings together various organizations to raise awareness about the potential of blockchain for social impact and sustainability. This initiative aims at promoting quality debate, raising awareness, and clarifying the opportunities of blockchain's role in realizing the UN Charter Values and the 2030 Agenda.
Dino Dell'Accio, Chief Information Officer at the Fund, commented: "Signing the BC100+ Manifesto is in line with the Fund's modernization efforts. Through this initiative, we commit to leverage blockchain technology's transformative potential for social good and applying a set of guiding principles in its implementation".
The initiative accepts applications from a diverse range of organizations from three target groups: blockchain projects and experts, UN offices with blockchain projects, and SDG projects with or without blockchain applications.
BC100+ is a global initiative, under the High Patronage of H.E. Csaba Kőrösi, President of the 77th UN General Assembly, convening the blockchain ecosystem to the broader efforts of UN agencies and global initiatives in support of the UN Charter values and the Sustainable Development Goals.
For more information, please visit https://bc100plus.org/
Due to sanctions imposed on Niger by the Economic Community of West African States (ECOWAS), XOF (West African CFA franc) payments to Niger cannot be made at this time.
In view of this, the Fund will put a temporary hold on all XOF payments into Niger effective with the August 2023 benefit payment. The Fund is exploring alternative XOF payment channels and will provide updates on its website once new information becomes available.
For beneficiaries who have a non-XOF bank account in their name and wish to receive their pension payments into that account, please submit payment instructions to the Fund so that we may update your records and remit the funds accordingly.
To update your payment instructions, please complete Form PF.23 and return it to the Fund. If you are registered with Member Self-Service (MSS), please upload the completed form to MSS. Due to the present situation, the Fund will also accept the completed form sent via email to unjspf-paymentinstructions@un.org. If sending via email, please also include (1) a copy of your valid passport, driver's license, or other government-issued identification document with your photo and signature and (2) a copy of your Bank Statement/Document with account details and your name.
Should you have any questions/concerns, please contact us at the contact details provided on our Contact Us webpage here.
The UNJSPF 2022 Annual Report has just been published. It contains a recap of the 2022 achievements and performance both from Pension Administration and the Office of Investment Management, key facts and figures related to the Fund's pensions and investments, highlights of the Fund's sustainable investing efforts, actuarial matters, governance, and a summary of the audited financial statements.
Download the 2022 Annual Report here.